"President-elect Donald Trump's advisers are looking at ways in which the U.S. government could help nuclear power generators being forced out of the electricity market by cheaper natural gas and renewable resources.
In a document obtained by Bloomberg, Trump's transition team asked the
Energy Department

how it can help keep nuclear reactors "operating as part of the nation's infrastructure" and what it could do to prevent the shutdown of plants. Advisers also asked the agency whether there were statutory restrictions in resuming work on Yucca Mountain, a proposed federal depository for nuclear waste in Nevada that was abandoned by the Obama administration.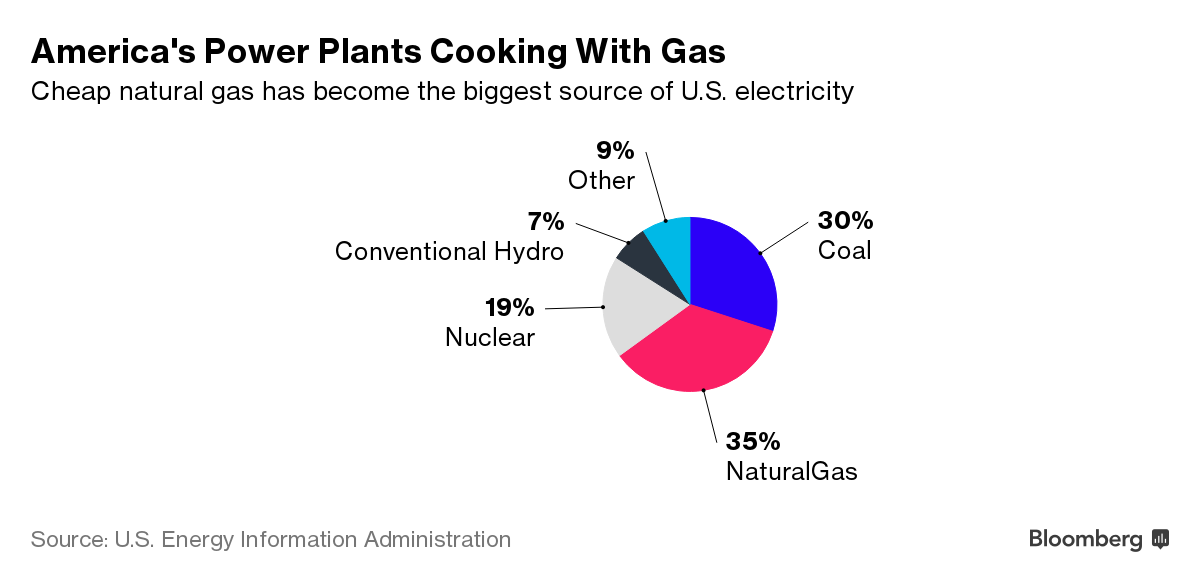 The list of questions to the Energy Department offers one of the clearest indications yet of Trump's potential plans for aiding America's battered nuclear power generators. Five of the country's nuclear plants have closed in the past five years, based on Energy Department data, and more are set to shut as cheaper supplies from gas-fired plants, wind and solar squeeze their profits.
The Energy Department could "just directly offer power purchase contracts to some of these plants," Julien DuMoulin-Smith, a New York-based analyst for UBS Group AG, said Friday by phone. "That's a last resort. It's not necessarily likely but it's something they're looking at. They are very interested in keeping the commercial portfolio available."
Media representatives for the Trump transition and the Energy Department didn't respond to calls and e-mails seeking comment.
Some environmentalists have warned the closures could undermine efforts to combat climate change as nuclear reactors are the biggest source of zero-emissions power in the U.S. Plant owners including the nation's largest — Exelon Corp. — have sought relief from state policy makers, with New York and Illinois approving millions in annual payments to keep reactors running.
'So Many Incentives'
"We're not sure if the Trump administration is going to have a priority on a low-carbon future, but there are so many incentives for certain technologies that create a skewed or an unlevel playing field in the marketplace," Exelon's Chief Executive Officer Chris Crane said Friday in an interview at a forum in Washington. "Let's design the markets to the outcomes that we want and merge environmental and energy policy together."
Exelon rose 2 percent to $34.89 at 3:28 p.m. in New York. The shares are up 26 percent this year.
"Depending on what the ultimate action is taken, it could be good news for nuclear companies," said Paul Patterson, an analyst with Glenrock Associates LLC.
To be sure, the Department of Energy's authority is fairly limited on what the agency can do to help existing reactors stay open, said Rob Barnett, an analyst for Bloomberg Intelligence. "To make sure existing nuclear stays open, you need Congress to pony up subsidies and we think that's an uphill battle."
Among a list of questions the Trump team sent to the Energy Department was whether the agency has plans to resume the license proceedings for Yucca Mountain and how it can continue supporting the permitting of small modular reactors, seen as the next generation of nuclear technology.
Another Closure
On Thursday, Entergy Corp. announced that it'll shut the Palisades nuclear plant in Michigan in 2018, adding to the growing list of reactors planning to retire early.
Trump has voiced his support for nuclear power in the past. In a television interview with Fox News in 2011, he said he was "very strongly in favor of nuclear energy," while stressing the need for safeguards at plants.
"Federal and state leaders must act urgently to preserve at-risk nuclear energy facilities, just like lawmakers and agency officials in Illinois and New York have done," Maria Korsnick, chief operating officer of the Washington-based Nuclear Energy Institute, said in an e-mailed statement."
To read the full article at Bloomberg News, click the link below:
https://www.bloomberg.com/news/articles/2016-12-09/trump-s-team-is-asking-for-ways-u-s-can-keep-nuclear-alive