This is an interesting observation from a resident and member of the Citizens Advisory Panel who lives in the Vermont Yankee area. They are still recovering from the closing of the plant. Evidently, there was no mass turnover with many homes going on the market at the same time. I have not seen any discussion about how many families might leave our area or what the community of Buchanan might look like 5 years post shut down. For that matter I have never seen any stats for how many workers actually live in Westchester, let alone Buchanan. Given the proximity to NYC I would expect a fairly rapid turnover because of people who want a house before they start their family. It is a good school district. Linda Puglisi is extraordinarily protective of the men who work there. I have heard her speak of "… my boys " Never have I heard her say a word about the women who work there.
"Key to the transition, Grinold said, is Windham County's need for new residents, much like the rest of Vermont.
"We need more people, more citizens, more employers, more employees. More people," he said".
---
New data shows wage rebound will take more time, and region needs influx of residents
https://www.mynbc5.com/2576a464-0ece-495f-a296-ea199ba37576
VERNON, Vt. —
From a distance, a casual observer might not realize much has changed at Vermont Yankee, the nuclear plant situated along the Connecticut River in the southeastern corner of Vermont.
Next month marks the five-year anniversary of the shutdown of the state's lone nuclear power plant in Vernon.
The scene of countless anti-nuclear protests over four decades, VY is now under new ownership and the site's being cleaned up much faster than state leaders anticipated even a couple of years ago.
"The amount of work we've done here is phenomenal," said Scott State, CEO of NorthStar, which is in charge of decommissioning VY. "We've done a lot of work in only 10 months."
Now, up to 100 NorthStar decommissioning employees come and go from the plant site each day, a fraction of the 625 people who worked for the previous owner, Entergy Nuclear, during the final years the plant was generating electricity.
The average Entergy employee in Vernon earned $100,000 annually and Windham County is still feeling the ripple effect of those lost wages and personnel.
"It's much harder than I think anyone knew," said Adam Grinold, executive director at Brattleboro Development Credit Corp. "It's greater than the losses from (the 2008) recession."
Nonprofit groups were also a casualty.
"There's a lot philanthropy that comes with a nuclear power plant and its six-figure employees, for the arts, for kids," said Rep. Laura Sibilia, of nearby Dover, a member of the Nuclear Decommissioning Citizens Advisory Panel. "We definitely see a struggle with those entities."
Five years later, southeastern Vermont is still trying to claw its way back.
A new analysis released this month found while other Windham County manufacturers have added hundreds of jobs since 2014, the new jobs don't pay as well as VY did.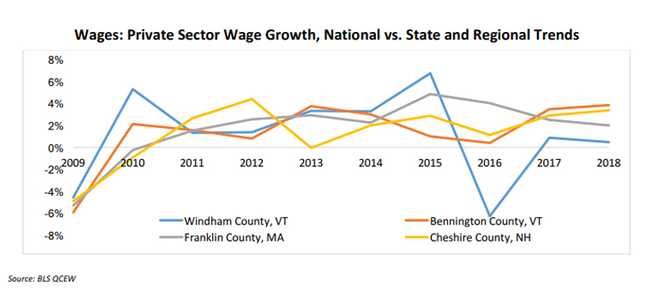 Courtesy of Brattleboro Evelopment Credit Corporation
Total private sector wages in 2018 were $789,486,000, about $41 million, or 5% below the final year of Yankee operation.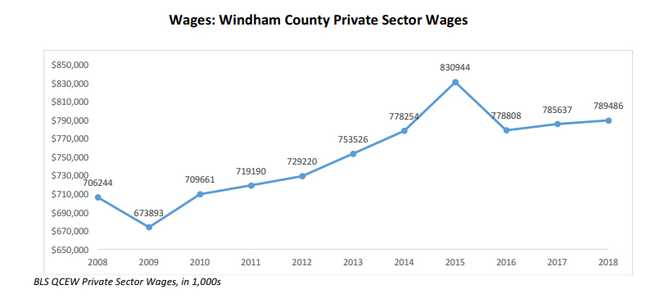 Courtesy of Brattleboro Evelopment Credit Corporation
In downtown Brattleboro, 7 miles north of the plant, longtime jewelry store owner Evan James said fewer people mean fewer sales in his shop and around town.
"I think it's definitely not doing anywhere near as well as it was when VY was here. We call it the VY effect," James said. "And I think it's a trickle down effect for other businesses. Like, if you're not busy enough, you don't give your employees enough hours. maybe not selling enough furniture, cars, jewelry. And your employees don't buy as much, as well, because they're not making as much money."
Near James' shore, a home goods shop is closing its doors this month. There are a couple of vacant storefronts along a generally bustling Main Street, where franchises are rare and most businesses are locally owned.
Bob Woodworth, longtime owner of Burrows Specialized Sports, said he misses his many customers who worked at VY. "It hasn't been a sudden, big shock (to business.) It's more of an adjustment," he said. Burrows is, however, optimistic the area will recovery but says it'll take more time.
"The kind of people who make $100,000 a year and can afford to buy a piece of jewelry for their partner or a new laptop for their kid are few and far between in this area. And we lost a lot of them," said Jennifer Stromsten, an analyst at BDCC. "This isn't a five-year story. This is 10-year or a 20-year story."
Key to the transition, Grinold said, is Windham County's need for new residents, much like the rest of Vermont.
"We need more people, more citizens, more employers, more employees. More people," he said.
Still, there are rays of hope.
Grinold said community leaders are generally behind a new economic strategy to market the region to new residents, thanks to its scenic beauty, low crime rates and relatively low cost of living.
Kerry Mulverhill, an agent at Brattleboro Area Realty, who grew up in Vernon, said the area remains attractive to buyers from neighboring Massachusetts.
"We only have five active listings in Vernon," she said. "A lot of people anticipated the market being flooded by homes (when Yankee closed.) That hasn't been the case at all."
NorthStar's State told reporters last month that decommissioning and site cleanup, which had been promised by 2030, will be completed by 2026 – and maybe sooner than that.
At that point, State said, "It'll effectively be a greenfield. The site will be available to do whatever you want. It'll be clean."
So clean, he added, the site of all of those nuclear protests could one day host a new factory or office park, or even new residential housing right along the Connecticut River.
By Stewart Ledbetter
Source: https://www.mynbc5.com/article/five-years-after-its-shutdown-windham-county-still-feels-loss-of-vermont-yankee/30029550