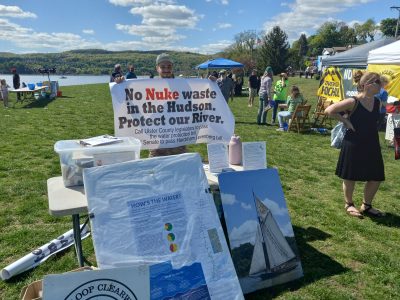 Activists protesting the proposed discharge of one million gallons of radioactive water from Indian Point into the Hudson River came to Cortlandt Waterfront Park from throughout the Hudson Valley on Saturday for the Save the River Rally.
Hundreds of local residents rallied with environmental activists and government officials Saturday afternoon to protest Holtec International's planned dumping of at least one million gallons of radioactive water into the Hudson River.
The Save the River Rally at Cortlandt Waterfront Park was organized by the town, which partnered with various organizations and communities throughout the Hudson Valley to stop Holtec from releasing the wastewater from the spent fuel rods and buy time to work with the corporation and regulatory agencies on an alternative solution.
There were determined calls along with a couple of fiery speeches from elected officials at every level of government. The afternoon also featured performances by several performers, including Dar Williams and Tom Chapin, and a flotilla of kayakers out on the water on a beautiful sun-splashed spring afternoon.
"We're here today with a singular goal and that is to stop Holtec from discharging this water," said Cortlandt Supervisor Dr. Richard Becker, who called for a one-year moratorium while alternatives are explored.
Holtec acquired the Indian Point site from Entergy shortly after it was taken offline on Apr. 30, 2021, for the purposes of decommissioning the facility. It then announced early last month that it would be discharging the water into the river in May, but after public outcry helped postpone the release until August.
Becker said that at the decommissioning hearings three other options were presented but were all deemed to be inadequate. Those included letting the water evaporate, shipping it to another site or leaving it where it is. All were eliminated from consideration for various reasons.
Evaporation risks sending radioactive material into the atmosphere while Holtec was unable to find another place to take the material. Furthermore, there are dangers in shipping the wastewater by rail, Becker said.
Holtec also revealed it didn't want to keep it at the 240-acre site because the pools were leaking, he said.
For communities that have fought hard to clean up the Hudson River after was used as a dumping ground for years, discharging the waste into the river is an unpalatable choice.
"We spent millions of dollars cleaning up this river, and so people have taken time and effort to clean it up that it's just a shame," Becker said. "It would be so sad to see anything like this happen."
The Hudson Valley's three congressional representatives, Mike Lawler (R-Pearl River), Jamaal Bowman (D-Yonkers) and Pat Ryan (D-Gardiner), all pledged to fight Holtec because of what is at stake.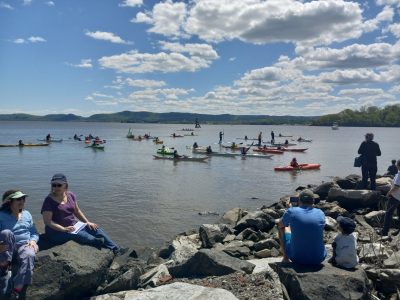 Ryan, who attended the rally with Bowman, said seven communities in his 18th Congressional District use the Hudson River for its drinking water, about 100,000 residents. Many may also not realize that the Hudson is a tidal river, meaning the water flows both ways, so communities to the north of Indian Point are just as much in jeopardy as those to the south.
Ryan noted that for many in his district the effects of GE dumping millions of gallons of PCBs into the rivers decades ago still strikes a raw nerve.
"My whole life big corporations are trying to maximize their profit on our backs, our health, our safety, and in our lives, (and) have been polluting and taking advantage of us and this treasure of the Hudson River my whole life," he said.
Aside from working with the federal government, local state legislators are supporting a bill that would prohibit radiological discharge into any waterbody in New York State.
State Sen. Peter Harckham (D-Lewisboro), chair of the Senate Environmental Committee, is sponsoring that bill while Assemblywoman Dana Levenberg (D-Ossining) is sponsoring the measure in the lower chamber.
Harckham said the lawmakers have been huddling with counsel because there are some questions about preemption, since the federal government and the Nuclear Regulatory Commission may claim jurisdiction over radiological discharge.
"We have to do it this session. We have to get it done and onto the governor's desk," Harckham said of the time pressures involved. "It's a tool in the toolkit. It's not necessarily the answer, but it's a tool in the toolkit."
Of those who attended the rally, Pat Evans, a member of Walkabout Clearwater Chorus, which was created by the late activist and folk music legend Pete Seeger, said she and many others want Gov. Kathy Hochul to take a stand on the issue.
"She hasn't even spoken up about this and she's got to put pressure on Holtec to do the right thing," Evans said.
Suzie Ross, chair and co-founder of Green Ossining, said the opposition to the discharge must "be relentless" if it is to stave off Holtec's pressure to dump into the Hudson. She applauded the virtual universal support from every level of government that represents the area.
"If you're passionate about these things, you can't ignore them" Ross said. "With all the things that are going on in our communities, locally, federally, this is a very sensitive issue. It's an issue of arrogance and ignorance and corporate control and I love that the people weren't standing for it."
Assemblyman Chris Burdick (D-Bedford), one of the many elected officials from throughout the region who attended the rally, called Holtec's quest to discharge into the Hudson "the most brazen assault on an environmental treasure."
"We need to do everything we can to halt Holtec," Burdick said. "It's as simple as that. We can't stop until we get them to totally drop this. There's just no question."
Source: https://www.theexaminernews.com/hundreds-rally-to-halt-holtecs-radioactive-water-discharge-into-hudson/